About Great Place to Work
Great Place to Work Institute is an indepentent and global consulting company specified on evaluating just what makes an organization a great place to work at. Yearly studies and employee surveys of over 10 million coworkers acts as foundation for the two models used in evaluating workplaces and employers.
The first step of the evaluation is a thorough employee survey, where employees submit answers to statements about credibility, respect, justice, pride and feeling of comradery. In addition to the survey, Great Place to Work takes a closer look at the company processes and governance, and evaluates these using experts in the area.
2019 is the first year Solidify participates in the investigation and we were evaluated in the category Small organizations (20-49 employees).
Certified Great Place to Work
We're very happy and proud to be able to say that Solidify passed the evaluation and we can now call ourselves a Certified Great Place to Work! Becoming a certified great place to work is a clear sign that our company culture and the way we do things is appreciated by our colleagues.
Looking at benchmarks against other companies in the same category, it quickly becomes clear that we are among the very best in Sweden when it comes to employee satisfaction. For example, take a look at the graph below comparing employee satisfaction for the categories IT Consulting, Top 20 Small Businesses and the entire Great Place to Work client index:
"All things considered, this is a very good place to work":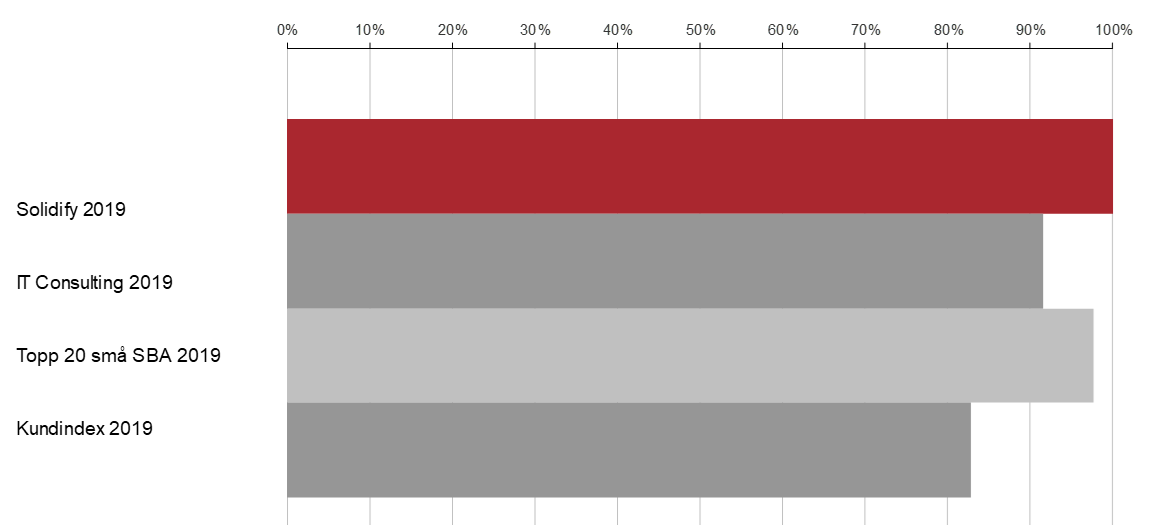 Or perhaps this graph, comparing the various attributes of a great place to work:
External benchmark of credibility, respect, justice, pride and comradery: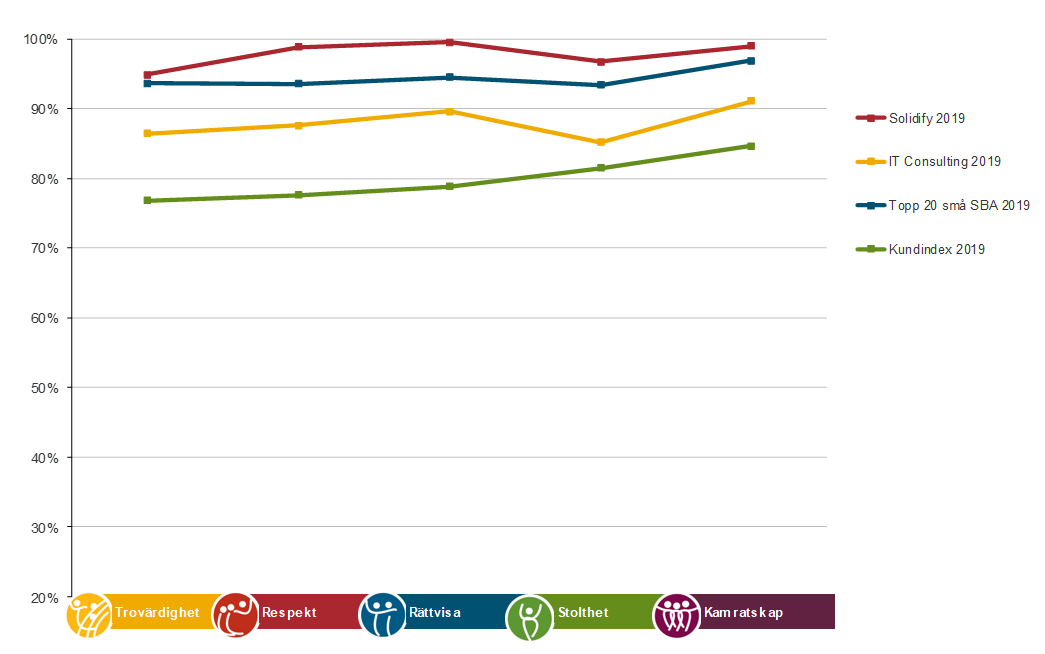 CEO Magnus Juvas about the certification
We are really happy that we're now Great Place to Work certified! Not only for the great results from the employee survey but that we now have a tool in place that will help us improve going forward. As we look to 2020, the big challenge will be maintaining our good result and employee satisfaction.
About Solidify
We are obviously very proud of our result in the Great Place to Work evaluation, but what really makes working at Solidify special is the colleagues. With a sense of community and a great amount of technical expertise, we aim to always share our knowledge both internally and externally. Among the experts at our company, there are several Microsoft MVP's and published authors.
At Solidify, we serve many valued and well-known brands such as Volvo Cars, H&M, Essity and SEB with services in DevOps and agile transformation, release, build and test automation, as well as custom software development for the cloud. We're constantly looking to help our clients push software engineering to the next level.